The recent passing of Dr Euan MacKie, together with the earlier passing (in April) of Dr Aubrey Burl,  and that of professor Keith Critchlow, brings to an end those stalwarts who were part of the surge of interest, during the 1960s and 70s, in archaeoastronomy, earth mysteries and a general quest to connect to our ancestors, to better understand the ancient world so as to include the new data that was pouring in from the work of those three professors, Gerald Hawkins, Alexander Thom, Fred Hoyle and those such as John Michell, whose lot it was to become part of, if not found, an alternative way of exploring  our ancient and prehistoric past, often tabbed  'the lunatic fringe'  within archaeological circles.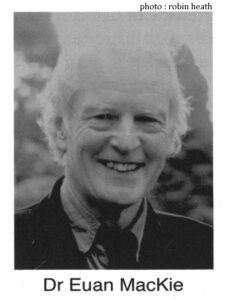 MacKie's death now severs the last link with this generation of pioneers who were recovering lost knowledge, evidence of ancient wisdom and, in MacKie's case, were prepared to cross the traditional boundaries between orthodox and unorthodox models of prehistory. It was MacKie who in 1971 made a film that first identified why archaeologists could not properly assess the astronomical data coming from Thom, Hawkins, Hoyle, Newham and several other significant researchers. This film he made obligatory viewing for all his undergrad students in the archaeology department at Glasgow University, where he was a senior lecturer in Archaeology.
We have now lost all contact with those who were most active during this most interesting period, when ancient wisdom, lost knowledge, leys, UFOs, earth lights and geometric patterns on the landscape were an essential component of any good dinner party amongst one's friends. It was a very good party, but now we inherit the mess that prehistoric archaeology has  left by failing to embrace new ideas coming from outside the profession, the falsehood that keeps everything prim and primitive in prehistoric times, and denies the contribution the Neolithic made to our modern sciences, surveying, navigation, astronomy, geometry and metrology.
We all owe MacKie a tremendous debt of gratitude. His work with Alexander Thom to provide traditional archaeological input to several of Thom's proposed precision alignments, most noticeably at Kintraw (winter solstice) and then at Kilmartin lunar observatory, gave Thom a much needed legitimacy that eventually gave the ageing professor some considerable traction within conservative archaeological circles. In addition, MacKie single handedly approached the Thom family 'clan', following Thom's death in 1985, in order to gain access to crucial archive material from the converted chicken shed and workshop where Thom had his drawing board and over 600 original survey plans plus over 25 note books from field trips accumulated over four decades.
This material the family generously donated to MacKie, who itemised it and donated it on behalf of the Thom family to the Royal Commission on the Ancient and Historic Monuments of Scotland (RCAHMS), in Edinburgh. He and Thom were very good friends right up until Thom's death in November 1985. By this period, the orthodoxy had purposefully closed down the shop on archaeoastronomy, and Thom really did need some friends that could affirm and celebrate what he had achieved.
I first met Euan in 1997 at his home in Bearsden, Glasgow. He was welcoming and friendly and agreed to my previous request to interview him, in part for material I was gathering for a future book Alexander Thom: Cracking the Stone Age Code. My wife Trish was to take notes and work the minidisc machine.  Euan had previously been sent a rough idea of the questions I felt needed answering.  The interview went well, Euan was very helpful and we were all over and done within two hours. We then all went out for a meal, and back for a coffee and a wee dram before saying our farewells. I asked Euan if he had ever visited the Bluestone outcrop in the Preseli Hills, a few miles from where I lived. It turned out that this was most definitely on his 'bucket list', so we asked him if he and his partner, Elizabeth, would like to visit us in Wales the following summer.
In the interim prior to their visit, Euan was to send me a small mountain of articles, anecdotes and survey plans, and we enjoyed long conversations on the phone and via email. I found Euan to be a gentle giant of a man, impeccably mannered, bright as a button yet having a strong sense of humour. He was most certainly on top of his game as a prehistoric archaeologist, and freely talked about his battles within the archaeological establishment to broaden their subject boundaries, including them placing archaeastronomy within the training of archaeologists and showing a little more flexibility with those that possessed the skills that archaeologists generally did not possess. His spats with Professor Clive Ruggles were Arthurian in the telling of, and this issue was sadly never resolved.
Knowing Euan enabled me to have a warm welcome when I later was to meet and stay with the Thom family 'clan' at The Hill, in Dunlop. Without his introduction, my autobiography/ festschreit book on Thom would have been much diminished. We continued to meet up, Euan taking me around the sites at Brainport Bay and later, to the Kilmartin Museum and its prehistoric sites, and on another visit we met up for a guided tour from the high scaffolding that had  been placed around Roslyn Chapel making it a virtual Faraday cage. What a great view from the top, both up and down the Rose Line from which the Chapel gets its geodetic name. In a tit for tat return visit to Wales we all enjoyed a day out at the cathedral site at St David's, where Euan danced a quadrille with no little flair on the tiles floor of the priory, and later we would visit some of the better known monuments of West Wales.
I have lost a true friend and supporter, and am left with a deep feeling of sadness. I do however have an unpublished audio interview on minidisc, a copy of the film he made in 1971, several blue folders with his articles and reviews, and letters to various august publications complaining that much of his earlier 1970s work at Durrington Walls was now being claimed by a new breed of prehistorians. In due course I will place this material, where appropriate, on my website, or make it available in other ways.
Trish and I always had fun when in the company of Dr MacKie, that will be our abiding memory. Days out with Euan and Elizabeth were always memorable, and the sun always seemed to be shining. He was that rare breed of archaeologist who could calculate where it would rise and set.
Our deepest condolences go out to his partner, Elizabeth.
Robin & Trish Heath