MEGALITHOMANIA 2018
Fun for all the family!!
One month to go before the annual megalithfest at Glastonbury. It's my first Megalithomania appearance since 2012. I have also been asked to act as some kind of tour guide on the Stonehenge special access visit on the Monday (14th May), my first since the old road was removed, the new Visitor's Centre was completed, and I finally found an older, bigger analogue of the Stonehenge site in the Preseli Hills of West Wales. Surely not!?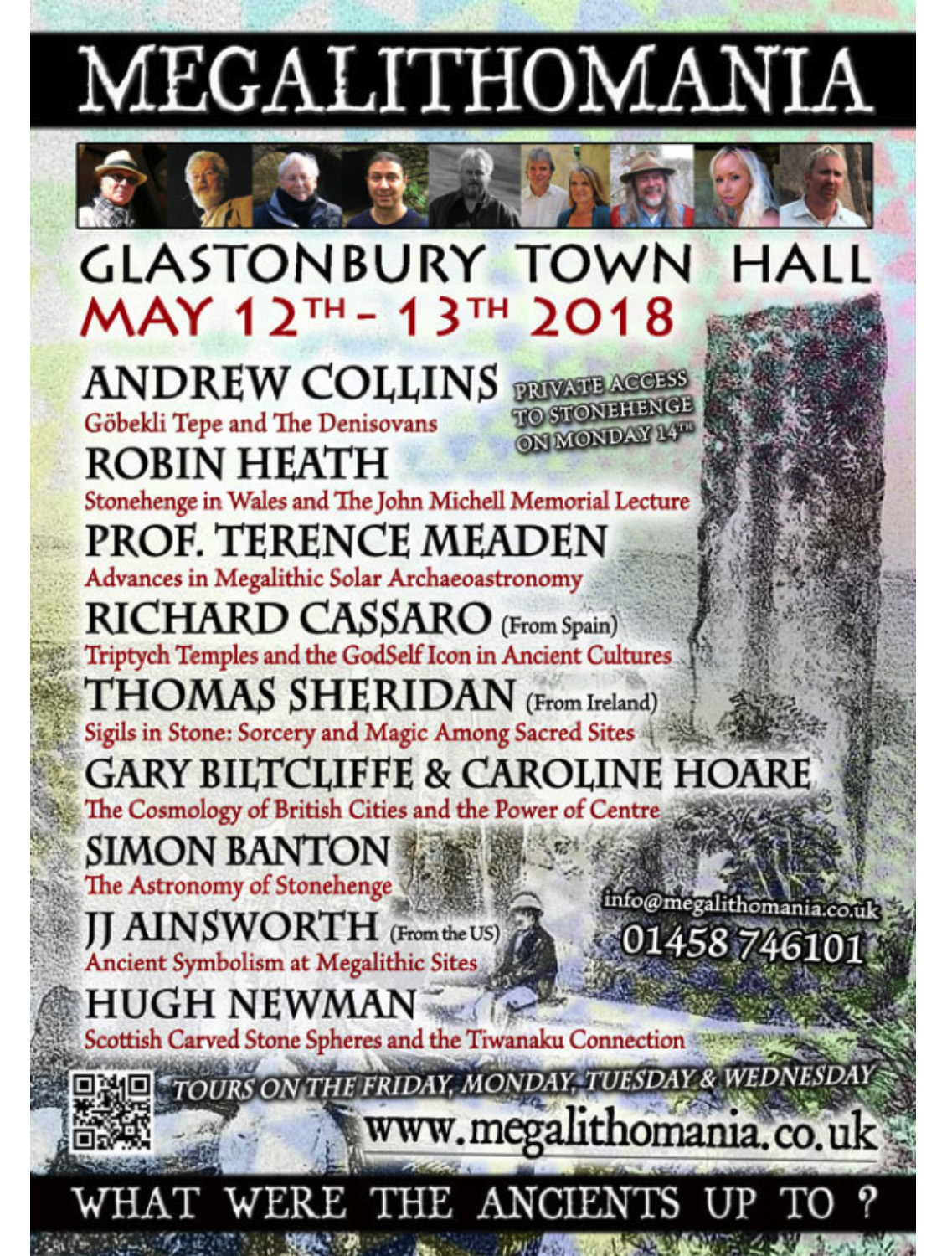 I'm giving two presentations: the first is Aboriginal Stonehenge in Wales (May 12th) which will be an update on my recent work and will include the recent boisterous new research into the relationship between Woodhenge and Stonehenge, which many readers of this website will already be somewhat familiar with.
My first presentation is on Saturday 12th May, 2018, 4:00 – 5:00pm
Aboriginal Stonehenge in Wales 
Stonehenge as a later imitation.
Here is the official Megalithomania blurb:
In the 1970s, a motley assortment of leyhunters, dowsers and members of RILKO and IGR combed the Preseli hills of West Wales looking for evidence of a Preseli Zodiac. Support for their researches originated from ancient Welsh legends, and they almost found the original Stonehenge. For the past 33 years, Robin Heath has been living and working within this landscape, discovering that the landscape itself, together with the siting of several important megalithic monuments reveals the 'zodiac' that also formed the original design for Stonehenge. Robin's illustrated presentation is the subject of a recently published book, Temple in the Hills.
My second presentation is on Sunday 13th May, 2018, 2:45 – 3:45pm
The 2018 John Michell Memorial Lecture
I have been honoured by being asked if I would give the annual John Michell Memorial Lecture (May 13th), entitled Keeping on the Old Straight Track. John was a very dear friend of me and my wife and we often walked miles of landscapes with John in search of evidence for prehistoric and ancient cultural evidence that supported the megalithic science of our ancestors. My own work was greatly accelerated by John's energy and generousity.
Here is the official Megalithomania blurb:
 Keeping on the Old Straight Track
Applying John Michell's legacy to new research.
John's books and lectures reintroduced two generations to a global prehistoric science whose traces were still visible because they had survived into later Babylonian, Egyptian, Minoan, Greek and Roman times. Although the scientific establishment remains to be convinced of it, this 'megalithic science' (which John sometimes referred to as 'spiritual engineering') remains recogniseable to modern thought.
In order to demonstrate the effectiveness of the ancient sciences when correctly understood and then applied, Robin will revisit some of John's favourite haunts, and pull a few new rabbits out of the hat.
**************************************
Many website readers have asked when Part Three of the tryptych article will finally appear, and the answer is between this event and midsummer, during the launch of the new composite Wooden Book 'Megalith'. This new tome includes my own contribution to this marque, a rewritten edition of Stonehenge with much new material plus some of Sun, Moon & Earth, within a contents page to satisfy the desires of anyone interested in prehistoric culture and 'Old Stones'.
MEGALITH Contents
Editor's Preface                          1
Book I  Stone Circles                7
Hugh Newman
Book II  Carnac                        59
Howard Crowhurst
Book III  Stonehenge               127
Robin Heath
Book IV  Avebury                     181
Evelyn Francis
Book V  Stanton Drew          237
Gordon Strong
Book VI  Callanish                291
Gerald Ponting
Book VII  Ancient British Rock Art   355
Chris Mansell
Book VIII  Surveys of Stone Circles   419
Alexander Thom and Archibald S Thom
Index  487
At the time of writing this, the retail price for this bundle of joy is not available, but the other Wooden Book compilations have been set at around £14.99. Surely a whole lot of bangs for your buck at this price, with each separate WB's priced at £6.99 this mammoth megalithic book is a hard bound bargain in a sparkly cover.
Go on (the WB website), because you're worth it!!
*******************************