Join me at the Megalithomania Online Conference on 8th – 9th May 2021. Discounted tickets available. Other speakers are listed on a previous post on this site, and include Mike Parker Pearson, Howard Crowhurst, Christine Rhome, John Martineau and Hugh Newman.  All at www.megalithomania.co.uk/booking.html. My lecture is scheduled for the Sunday, 9th May, start at 4:30pm and titled, Bluestone Magic: Revealing Waun Mawn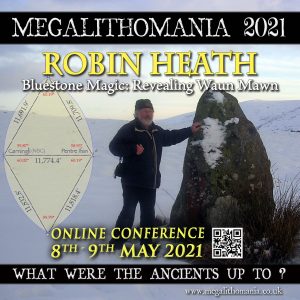 Brief Description 
To understand a megalithic landscape, one must focus on the liminal space between sky and landscape, where 'the above' meets 'the below' at locations where Neolithic folk chose to locate their major temples and other significant monuments. Unfortunately, the techniques required are not those preferred by present day archaeologists.
In his new richly illustrated presentation Robin Heath will share his latest research, which sheds new light on the function and purposes of the Waun Mawn site, in the Preseli region of West Wales, conferring a greater significance onto this monument than previously recognised.
Brief Biographics
Robin Heath is a seasoned researcher, author and presenter on prehistoric and ancient science, a subject that has become a lost legacy to the modern world but remains built into the design and construction of many megalithic monuments. Robin has written and published nine books, and co-authored a further two.
An engineering graduate, his background has enabled Robin to discover astonishingly elegant qualities in many Neolithic monuments, and reveal in their design an unexpected knowledge of astronomy, geometry and metrology. Robin's goal is to see this subject incorporated within the history books of the future, a recovered legacy made plain for future generations, and recognised as the vital first chapter in any revised history of science.
Robin has lived for over 35 years in the Preseli National Park of coastal West Wales, 25 years with his wife Tricia.
Latest Schedule from Hugh Newman www.megalithomania.co.uk 
SATURDAY 8th MAY:
10.30am: Registration
11 am: Michael Bott & Rupert Soskin
12.00 pm: BREAK
12.30pm: Caroline Wise
1.30 pm: Lunch
2.30 pm: Dr Martin Sweatman
3.30 pm: Break
4 pm: Gail Higgingbottom pt.1
5 pm: BREAK
5.30 pm: Alan Wilson & Ross Broadstock
6.30 pm: BREAK
7.00 pm: Prof. Mike Parker Pearson
8.15 pm: END
SUNDAY 9th MAY
10.30am: Registration
11:00 am: Gail Higgingbottom pt.2
12.00 am: BREAK
12.30 pm: Howard Crowhurst
2 pm: LUNCH
3pm: John Michell Memorial Lecture – Hugh Newman
Introduced by Christine Rhone
4 pm: BREAK
4.30 pm: Robin Heath
5.45pm: BREAK
6.15 pm: Speakers Forum hosted by John Martineau
7.30pm: Closing Remarks
7.45pm: END